GEMCORE, a Family of Companies, Named a Cleveland Plain Dealer Top Workplace for Second Consecutive Year
Hudson, Ohio  – June 28, 2021: GEMCORE, a family of companies, has once again been named a 2021 Top Workplace by the Cleveland Plain Dealer for a second consecutive year. Through its four divisions — Edwards Health Care Services, GEMCO Medical, GemCare Wellness, and GEM Edwards Pharmacy — the company employs over 200 people locally and was ranked 7th in the Midsize Companies category, an improvement from 2020 where the company was ranked 24th. For the full list of 2021 Top Workplace Winners, click here.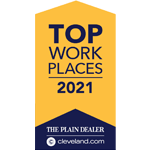 "We are thrilled the Plain Dealer continues to recognize us as one of Cleveland's top workplaces," said Matthew Edwards, GEMCORE's CEO. "Our people are at the core of everything we do, and given the past year, I am extremely proud of them and their commitment not only to our organization but to our customers who are living with chronic health conditions that they serve on a daily basis."
Administered by a third-party platform, the survey measures 15 culture drivers that are critical to the success of any organization: including alignment, execution, and connection, to name a few. The Plain Dealer's Top Workplaces list continues to reflect companies in the region that cultivate a connection with their workforce. This year's Workplaces list ranks about 175 companies, nonprofits, schools, and other employers. These organizations share a commitment to providing support and an environment that makes employees feel valued and respected.
To learn more about GEMCORE, visit www.gemcorehealth.com.
###
About GEMCORE:
GEMCORE, a family of privately held companies, is an industry leader of diabetes management solutions, mail-order diabetes supplies, wholesale medical supplies, medications, specialty third-party logistics as well as health coaching and disease management. Combined, these value-driven solutions reduce healthcare costs and drive efficiencies for clients while helping to improve patients' lives. Headquartered in Hudson, Ohio, GEMCORE's company portfolio includes Edwards Health Care Services, GEMCO Medical, GemCare Wellness, and GEM Edwards Pharmacy. For more information, visit www.gemcorehealth.com.
---
---